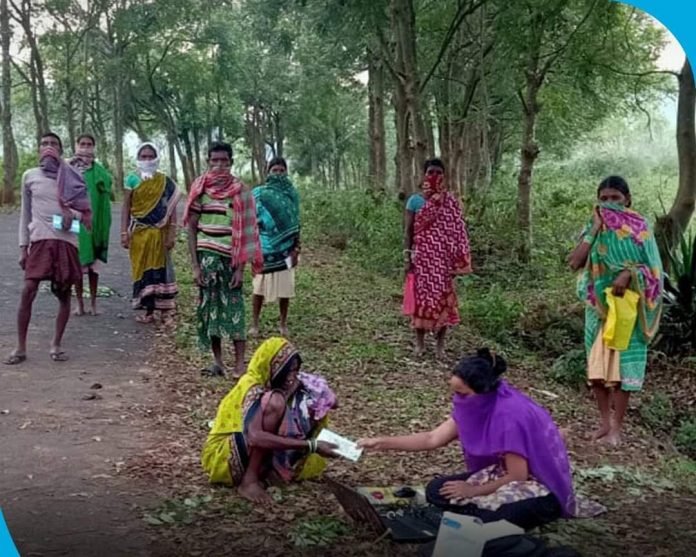 Bhubaneswar, 24 April 2020: FIA Global, a leading fintech company in digital payment & distribution systems for the last-mile financial inclusion in India and Nepal, is providing access to essential financial services in rural areas during the lockdown. In association with Bank Mitras and Bank Sakhis, the company is trying to reach out to villagers to help them during the crisis caused by the COVID-19 pandemic.
The Central and State governments have announced various relief packages for farmers, PMJDY account holders, and the poor, but the responsibility of ensuring that the money reaches the needy in the extremely remote villages/districts of India falls upon the Business Correspondents (Bank Mitras/Sakhis). Business Correspondents are retail agents engaged with banks to provide services at non-branch locations.
Some 3400 Bank Sakhis are servicing the villagers by providing door-to-door facilities to deliver cash to the needful. From Kargil to Kanyakumari, these Bank Mitras and Bank Sakhis are relying on sanitizers, soaps, face masks or even stoles to cover their face to ensure social distancing. While undergoing due diligence, Bank Sakhis are also educating the people about the importance of social distancing to fight the pandemic.
Mr. Dipayan Chowdhury, Chief Sales Officer of FIA Global, said, "At such times, Indians must unite to help each other in maintaining a healthy environment. During the pandemic people have to maintain safe surroundings and not hamper those serving the daily needs of citizens. We, at FIA Global along with the Bank Sakhis, are dedicated to helping our customers during an emergency like this. Our sincere best wishes to all the servicemen of the country."
Ms. Bijay Laxmi Rout, a Bank Sakhi from Nayagarh, Orissa region, says, "I disburse around 600 Old age pension and NREGS distribution in 3 villages in Nayagarh district every month. I start work in the morning from 9 am to 6 pm with a lunch break of 1 hour.   Now, I distribute 500 Rs credited in the women PMJDY accounts by visting their houses. Here I have gone to the village to make old age pension disbursements of Odisha government."
She further added, "I am aware of the present situation, I maintain order during disbursement by maintaining social distancing. I also frequently wash hands and use sanitizers provided by the bank".
-By Odisha Age