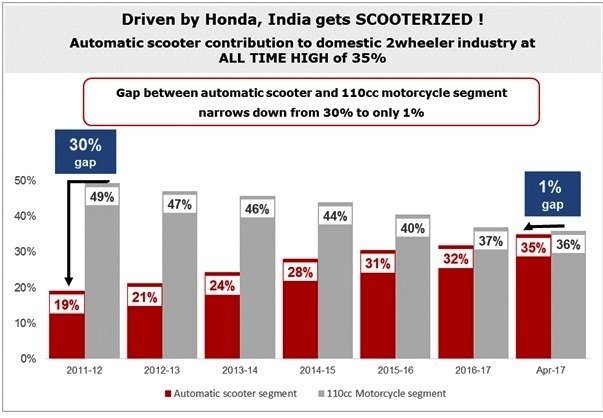 Bhubaneswar: With record sales performance in April 2017, Honda Motorcycle & Scooter India Pvt. Ltd. is now driving the biggest evolution of Indian two-wheeler industry.
Honda consolidates leadership and leads the next scooterization wave! 
Marking a great entry into FY'2017-18, Honda 2Wheelers India registered highest ever automatic scooter sales (368,550 units) in April 2017. Honda 2Wheelers India ATSC sales grew at an accelerated 40%, which is much faster than scooter segment growth of 25%. Interestingly, 89% of new ATSC volumes of industry came from Honda alone!
Honda's market share inautomatic scooter segment is at ALL TIME HIGH of 63%. Honda has strengthened its undisputed leadership gaining 6.6% share on back of demand for new BS-IV portfolio. Leading this record sales is Activa, which is now India's highest selling two-wheeler brand.
Honda's performance turbo-charges automatic scooter segment
Led by Honda 2Wheeler India, automatic scooter is now the ONLY growing segment and is driving the domestic two-wheeler industry. In April 2017, automatic scooter segment sales grew 25% and eclipsed 0% growth of motorcycle segment and -14% de-growth of moped sales.
As a result, automatic scooter segment's contribution to two-wheeler industry is now at 35%.
Sharing how Honda's automatic scooter sales are driving the industry, Mr. Yadvinder Singh Guleria, Senior Vice President – Sales & Marketing, Honda Motorcycle & Scooter India Pvt. Ltd. (HMSI) said, "From its debut in 2001, Honda 2Wheelers India re-activated the automatic scooter segment. Over the years, Honda has strengthened its leadership in automatic scooter segment with its two core strengths – advance technology and innovation. Honda was the first to reduce the mileage gap between mass motorcycles and automatic scooters way back in 2001 and innovate with tuff-up tube, Convenient Lift up Mechanism (in 2001). In 2009, Honda was the first in industry to bring Combi-brake system (CBS) with Equalizer technology and tubeless tyres. In 2013, Honda innovated yet again to give customers more mileage with Honda Eco Technology. Continuing its technology and innovation leadership in the BS-IV era, Honda is again the industry first to bring LED position lamps in the segment with Activa 125. In 2016-17, Activa has overtaken motorcycles to become Highest selling two-wheeler brand in India. Honda isfirmly leading the next wave of scooterization which has already started in Tier-II and tier-III towns."
TREND TO WATCH =>ATSC to overtake 110cc motorcycles as No. 1 contributor to Industry
With better road infrastructure and more females joining the work-force, the primary requirement of Indian riders has evolved from the mileage and price conscious 110cc motorcycles to the more convenient and unisex automatic scooters. Ending April 2017, thegap in segment contribution to industry volumes has narrowed down to only 1%.
In just 6 years, the contribution of automatic scooter segment to domestic industry has zoomed to 35% (April 2017) led by Honda 2Wheelers India while 110cc motorcycle segment contribution has declined from 49% to 36% in the same period.