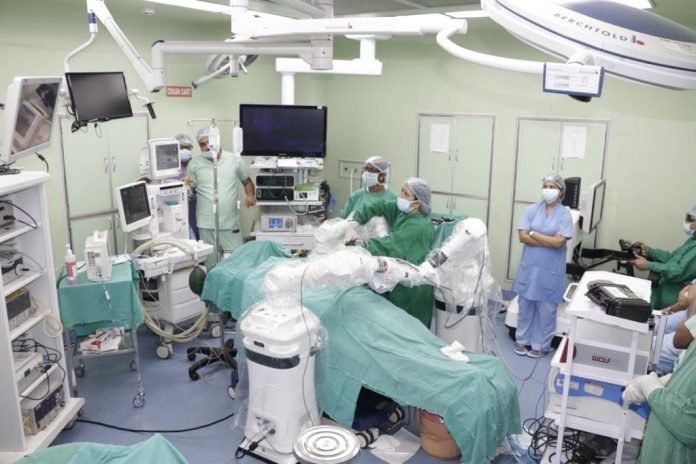 Cuttack: Shanti Memorial Hospital, a leading healthcare provider of Odisha announced about a critical surgery performed at hospital in a 60 years old patient successfully. It is considered as a major milestone for such case. A 60 years old male visited the hospital with complaints of pain swelling in the right abdomen. The pain had started one year back and the swelling had followed shortly and was increasing slowly. Initially he had neglected it and was taking pain killers only but the growing discomfort, he consulted physician and on imaging a large retroperitoneal tumor was found. In January the family visited Shanti Memorial hospital and consulted with doctors.
Dr. Prashant Chandra Das, chief consultant, surgical – Oncologist, dept. of surgical Oncology, Shanti Memorial Hospital, said that, "at the time of presentation patient's abdomen was distended and he had swelling of both his legs. CT scan showed a large 17X19C24 cm retroperitoneal mass, which was involving his right kidney and was displacing aorta and inferior vena cava, the great vessels, to the left side. A biopsy of the mass showed it to be liposarcoma. For this tumor the mainstay of therapy is surgical removal."
He further elaborated the case and said that, "we did a renal scan to determine whether the functioning of both the kidneys and found that the right kidney was already partly damaged and not functioning." 
Thankfully the opposite kidney was functioning well and was compensating for deficit caused by the diseased kidney. Since the tumor was densely adherent to inferior vena cava and aorta removing it always carried the risk of injuring these great vessels." The team comprising of doctors under leadership of Dr Prashant Ch Das did the challenging surgery which lasted for six hours.
-OdishaAge