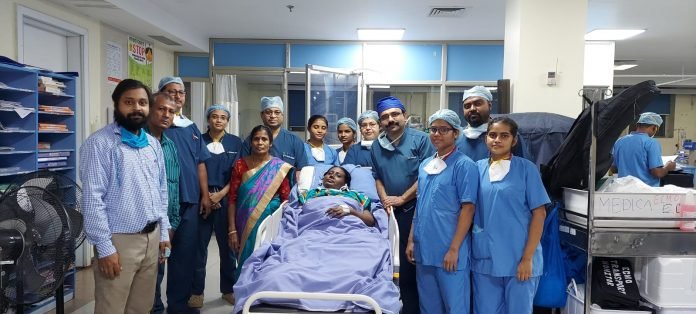 Kolkata: Medica Superspecialty Hospital, the largest private hospital chain in Eastern India has set yet another benchmark in patient care by reviving a highly critical patient through their ECMO support which has already earned national repute during COVID-19 with high patient survival ratio of over 50%. Extracorporeal membrane oxygenation (ECMO) is a procedure wherein blood is pumped outside the body to a heart-lung machine which removes the carbon dioxide from the blood and oxygenates it before returning it to the body of the patient. ECMO is used in critical care situations and in recent times it is used in care for COVID-19, ARDS and other infectious diseases. Currently, Medica has the largest ECMO facility in India. Under the auspices of Dr. Kunal Sarkar, Senior Vice Chairman, Senior Cardiac Surgeon & Head (Medica Institute of Cardiac Sciences), ECMO team, headed by Dr. Arpan Chakraborty and Dr. Dipanjan Chatterjee, Mr. Deblal Pandit along with the highly skilled technicians and nurses ensured the patient survived the ordeal which turned into the longest ECMO survivor in India.
Smt. Mahasweta Kallat, suffered from severe acute respiratory distress syndrome (ARDS) owing to COVID when she was transferred from another city hospital in the EM Bypass in Kolkata on 9th August 2021 where she was on prone ventilator support but not improving. The team of doctors at Medica found that her Oxygen saturation level was weaning. Immediately she was administered ECMO support to gradually rescue her lungs that were already severely damaged was put on rest ventilation. 
Elaborating about the miraculous recovery of Smt. Kallat, Dr. Arpan Chakraborty, ECMO Physician, Medica Superspecialty Hospital stated, "It is always a challenge to fight the battle when a Covid patient is already under distress owing to the deadly disease. We are fortunate enough, that finally Smt. Kallat, who along with us doctors, fought all the odds and could win this battle head on. An almost near recovery of her lungs is a positive sign with rest ventilation which was a time taking process. We are thankful to her family, friends, who have been supportive and equally participative with us in this longest battle with any patient successfully surviving on ECMO in India."
For first six weeks of ECMO run, she was not awake due to encephalopathy for almost six weeks (damage or disease that affects the brain. It happens when there's been a change in the way your brain works or a change in your body that affects your brain. Those changes lead to an altered mental state, leaving the patient in a confused state of mind). After that she started opening her eyes and interact gradually with family members. Her lungs also started improving in a prolonged protracted manner but was not able to exhale CO2 properly. Ultimately, she was weaned off ECMO on 81st day on 28/10/2021. She was administered another month of ventilation. Slowly her ventilatory support was also withdrawn and with regular physiotherapy, she started moving to chair. She finally got discharged on 29.11.21 on day 112 from Medica to home with near-normal lungs recovery.
Dr. Kunal Sarkar, opined, "Medica has been achieving milestones in recuperating patients from near death situation due to our best and largest ECMO facility in India. We as doctors always want the best treatment to be administered to patients and in this case her recovery went on to record the longest any patient has stayed on ECMO support, recuperated, and discharged. She is one of the longest ECMO survivor in the country today and we wish her a healthy life ahead."
Having set benchmarks in patient care, Medica Superspecialty Hospital, which has a world-class comprehensive cardiology and cardiothorasic surgery departments at the Kolkata facility is widely known for its excellence in cardiac care has now added another feather to its cap, after successfully managing the longest running ECMO treatment on any patient across India. It has become a one stop destination for all the modalities of extensive cardiac treatment facilities including coronary interventions, electrophysiology, structural heart disease, congenital cardiac disease, heart failure management, cardiac device therapy and heart transplantations.
-OdishaAge