Bhubaneswar: Child Labour is highly pervasive in our country. The number of children working as child labourers is increasing continuously. The children have been...
Bhubaneswar: The filing of nominations for the forthcoming general elections for Panchayati Raj Institutions ( PRIs) in Odisha has begun on Monday, 17, January.  This...
Bhubaneswar: Continuing its dominance in Odisha as the most preferable digital service provider, Reliance Jio further extended its leadership position with 52.3% gross revenue...
PURI: District Collector of Puri, Aravind Agarwal, today lodged an FIR against some servitors who allegedly abused him, while a priest was arrested on...
Bhubaneswar:  TVS Srichakra Limited, India's leading 2 & 3-wheeler tyre company invites motorbike enthusiasts in the city for the inaugural edition of TVS Eurogrip Brunch and...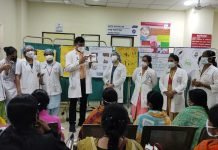 Bhubaneswar: Cervical Cancer is the only cancer which can be eliminated through proper vaccination and detection. On 17th November, 2020 the World Health Organization...
BHUBANESWAR:  Bapi Jena, 30, of Hantuka village of Puri district had faced resentment of some people of his locality when he tried to get...
Bhubaneswar: AIIMS Bhubaneswar has added another feather in its illustrious cap. Under the leadership of Dr. Gitanjali Batmanabane, Director, AIIMS Bhubaneswar and a leading...
Mumbai: Reliance General Insurance Company Ltd. (RGICL), India's 4th largest private general insurance company, has launched a digital campaign called #CarKaYaar on all digital platforms...
Most Popular
Kolkata:Bookchor.com is handing over the keys to the reader's happy place with the latest edition of LockTheBox Reloaded, Kolkata, the most loved Book Fair...
Latest reviews
Mumbai : Vitesco Technologies, a leading international provider of modern drivetrain technologies and electric mobility solutions, has been recently awarded the Prestigious Brand of...
Delhi : Union bank of India received the prestigious 'Rajbhasha Kirti Puraskar' for excellent implementation of Hindi during the year 2018-19, 2019-20 & 2020-21...
Mumbai: Bank of Baroda in association with Mumbai University organized a one-day workshop on "Use of Hindi in Information Technology" for Hindi Professors of...