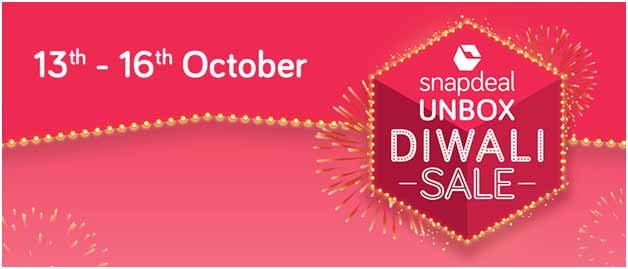 40-60% discount on home appliances
Extra savings with 15% cashback on Citibank and 10% instant discount on HSBC credit cards
Bhubaneswar: Snapdeal's Unbox Diwali Sale, which will run from 13th to 16th October 2017 focuses on presenting a range of household goods carefully selected to spruce up your home in time for the Diwali festivities.
The sale brings a host of household merchandise, including:
Blue Star Water Purifiers | Starting Rs. 5,999
Branded Chimneys | Starting Rs. 3,999
Cello Opal Ware Dinner Set 20Pcs | Rs. 1,499
Copper Drinkware Set | Rs.999
Prestige 3 burner gas stove | Rs. 3999
Prestige 4 Jar Mixer | 40% Off
Geysers | 50% Off
Mattresses | Coir fit & more 40%-60% off Bedsheets | Spaces, Welspun& more Up to 60% off
Curtains, cushions for the living room | Starting Rs. 299
Motorized toys | 50-80% off
Godrej Home Safes | Starting Rs. 3,699
Motorized Treadmills | Starting Rs 17,999
In addition to the above offers, the current sale also provides another opportunity to order from Snapdeal's best selling offers including:
Personal use electronic items including headphones and earphones
Electronic accessories like power banks, hard drives
Cartridges and toners for home printers
Household goods like kitchen utensils and toothpaste dispensers
Casual Footwear, including sports flip flops and sports socks
Dry fruits including California Almonds
Gift items including analog watches, wallets and digital gift cards
A range of Diwali décor items including lights and Diwali stickers starts with prices as low as Rs. 99.
Citibank credit card users get an extra bonanza of15% cashback (with maximum cashback of INR 2000) and HSBC credit &debit card users get 10% instant discount throughout the 4- day sale period. On 13th October, HDFC card users get an extra 10% instant discount, while on 14th October Standard Chartered users get the same privilege on an exciting range of daily needs, household merchandise and food items
Commenting on the sale, Vishal Chadha, Chief Business Officer, Snapdeal said, "The Snapdeal Unbox Diwali Sale is focused on making the festive season as easy as possible for our shoppers. From best-selling products from leading brands, to attractive and affordable festival prices and competitive discounts from our participating banks, Snapdeal has everything you need to celebrate Diwali."
-ByOdishaAge