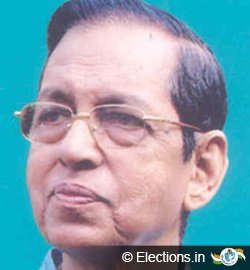 Bureaucrat-turned politician Pyarimohan Mohapatra, often referred to as Chanakya of Odisha politics for his smart political intelligence, passed away today.
The 77-year-old former BJD Rajya Sabha member and president of Odisha Jan Morcha (OJM) has been suffering from certain lungs disease. He is on ventilator support at a Mumbai hospital. "He is critical but stable now. Mr. Mohapatra had been facing intricacies in speaking for past few months," said Mr. Jagneswar, Pyari's close aide and colleague in Odisha Jana Morcha (OJM).
Pyari, who underwent a lungs surgery in March last year and recovered well, is stated to have contracted infections.
A long-time mentor of chief minister Naveen Patnaik before their bitter fallout in 2012, the former IAS officer was the master strategist of the regional party days after it was formed in 1997.
Pyari, who was also closely associated with Late Biju Patnaik as his principal secretary when the latter was CM, is credited to be the brain behind key BJD decisions such as to deny party ticket to Bijoy Mohapatra, a founder leader of the regional party in 2000 assembly election as Bijoy was perceived a challenge to Naveen.
Pyari also coordinated the BJD decision to part ways with the BJP in the run up to the 2009 simultaneous Lok Sabha and assembly elections. As the strategy paid up and BJD swept the poll then, Pyari's stature in the party rose only next to Naveen.
Several BJD ministers, MLAs and senior bureaucrats used to make a beeline at his Saheednagar residence. Section of media often described him as the second power centre in the BJD. However, he had bitter separation with Naveen as the latter sacked him from the party in 2012 accusing Pyari of plotting to stage a coup to dethrone him when the CM was on a foreign tour. He was suspended from the Biju Janata Dal, following an alleged coup attempt against Chief Minister Naveen Patnaik in June 2012, while the chief minister was in London. BJD MP Pyari Mohan Mohapatra, resigned as the party's parliamentary group leader in Rajya Sabha on 4 August 2012. He attributed his resignation to absence of communication between him and BJD president and Odisha Chief Minister Naveen Patnaik. The former bureaucrat formed his independent party, Odisha Jana Morcha and was serving as an MP in Rajya Sabha where his term ended on July 1, 2016.
-by Odishaage