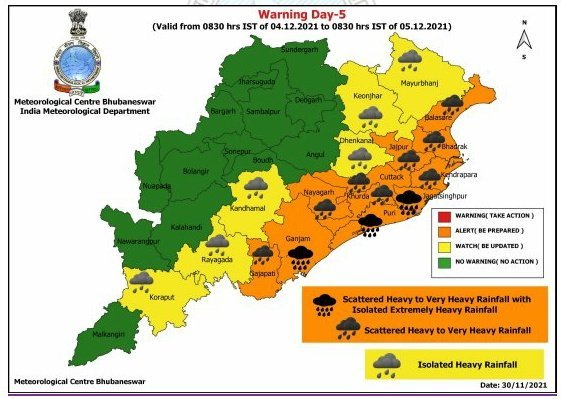 Bhubaneswar:
As the IMD has announced a cyclone alert in Odisha State and very heavy rains in several districts of the state, common people and the farmers are frightened losing crops all over again. The recurrence of rain fall in the state and in the neighbouring states has been affecting agriculture in an adverse manner in the recent past. Because of which people are hit with high inflation in vegetables and food items.
The Indian Meteorological Department (IMD) has given an 'Orange Warning' in different districts of Odisha for an extremely heavy rains from 3rd of December.
According to the IMD report, a low pressure is likely to occur over South Thailand and its neighbourhood and it is going to emerge into Andaman Sea in the next 12 hours. It will move towards west-northwestwards and by 2nd of December it will turn into Depression which will intensify into a cyclonic storm over Central Bay of Bengal during the following 24 hours.
The IMD bulletin adds that the cyclonic storm is most likely to move north-westwards, intensify further and reach north Andhra Pradesh-Odisha coasts by the 4th December morning. Even though the exact location of the landfall is not yet confirmed by the IMD, it is assumed that it might hit between Andhra Pradesh's Kalingapatnam And Odisha's Gopalpur.
-OdishaAge