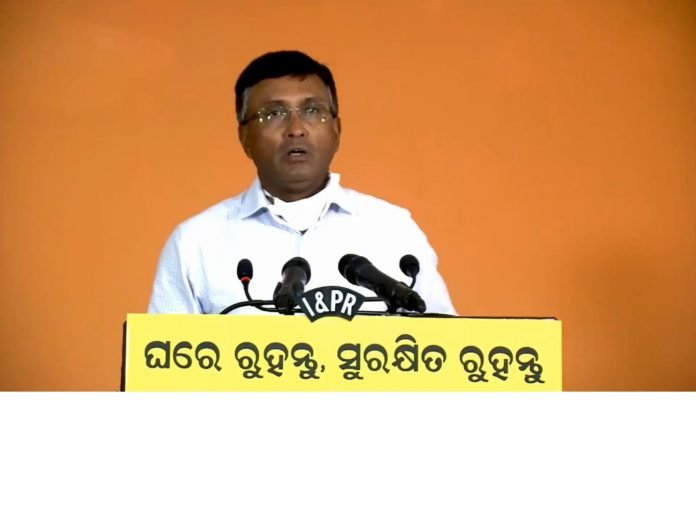 Bhubaneswar: Chief Secretary of Odisha, Shri Asit Kumar Tripathy addressed the press announcing the State's plan of Unlock 1.0. While the State Government has extended the lockdown in all Covid-19 containment zones in Odisha until midnight of 30.06.20, there will be graded reopening of areas outside the containment zones.
The religious places, shopping malls, international air travel of passengers (except as permitted by MHA), cinema halls, gymnasiums, swimming pools, theatres, bars, auditoriums, assembly halls and similar places will continue to remain closed till 30th June 2020. Hotels will be allowed to operate with 30 percent capacity and restaurant service will be open for only in-house guests.  However permission will be granted to hotels and restaurants for home delivery and takeaway of food. Schools, colleges and other educational institutions will remain closed till 31st July, 2020.
The government has also urged people to strictly follow the directives for Covid-19 management which includes use of mask in public places, workplaces and transport, adhering to social distancing norms, ensuring all safety precautions by salons, spas, beauty parlours and barber shops, refraining from gatherings of more than 7 persons, prohibition on consumption of liquor, paan, gutkha and tobacco in public places and penalty on spitting in public.
Movement of individuals shall remain strictly prohibited between 7pm to 5am throughout the state, except for essential services or medical and other emergencies.
In the interest of public health and containment of spread of Covid-19 in state, shutdown will be imposed in the districts of Ganjam, Puri, Nayagarh, Khurda, Cuttack, Jagatsinghpur, Kendrapara, Jajpur, Bhadrak, Balasore and Bolangir on all Saturdays and Sundays till 30th June, 2020. During this shutdown only medical establishments, district and municipal administration, police, fire services, movement of central and state government officials on emergency duty, telecom services, petrol pump, media houses, water supply, sanitation, sewerage, electricity supply and distribution, movement of goods and goods carrier, industrial establishments, factories, construction activities, service sector industries, movement of rail and air transport and movement of public transport, taxis and private vehicles to and from airports, railway stations and bus depots shall be allowed.
-Odisha Age