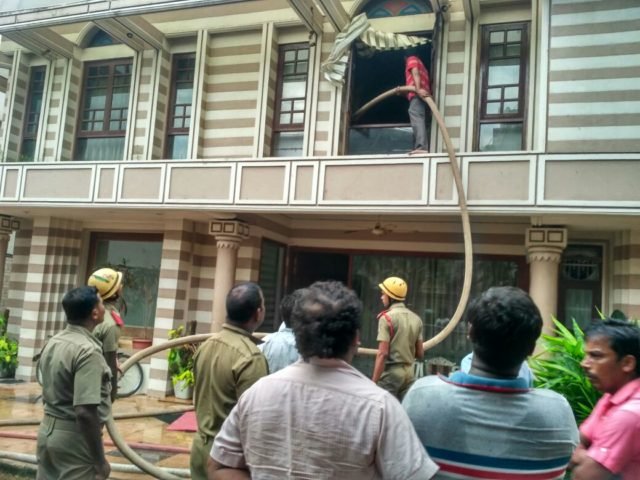 Bhubaneswar: 3rd August 2017: The house of Pal Heights Hotel owner Satpal Singh caught fire early Thursday morning in which his sons Gaganpal Singh , Bhabana Singh, two kids-Sohabi Singh and Ruby Singh- and a servant Khushi Das died while they were asleep. Satpal Singh has suffered burn injuries. Five persons including four family members of city-based hotelier Satpal Singh died of suffocation when fire broke out in Budheswari colony residence in Bhubaneswar early on Thursday.
The fire reportedly broke out in the second floor of the house of renowned hotelier Satpal Singh at about 3.30 am when everybody in the building was asleep. The hotelier, however, escaped with serious injuries. He was undergoing treatment in government-run Capital Hospital here. The victims are identified as son Gagan Pal Singh (40), daughter-in-law Bhawna Singh (38), grandson Rubir Singh abd granddaughter Sohabi Singh. A maid identified as Khushi Das also died.
A fire official said they got a call at 5.18 am and rushed to the spot with two fire tenders. "When we arrived there we saw huge smoke emanating from the building. As the house was centrally locked entered into it by breaking the glass windows in the first floor. We rescued all alive, but five of them died of asphyxiation later," he said.
According to preliminary investigation, the fire emanated from an air conditioner and soon smoke spread out in different rooms.
The smoke was spotted by neighbours in 4.30 am in the morning. They tried to inform security guards deployed in the ground floor. But when they could not put the message across to security guards, they informed police control room which forwarded the message to fire service station.
-By Odisha Age