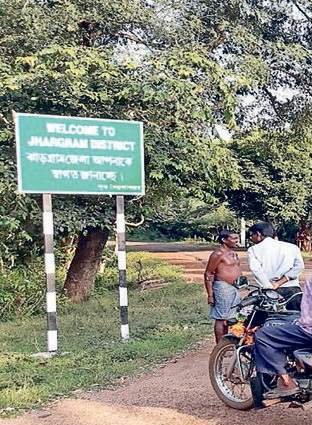 BHUBANESWAR: The West Bengal government seems to have adopted a new policy to get hold of bordering Odisha villages.
In its most recent attempt, the neighbouring State authorities have put up a welcome sign board in the middle of Tukpalasia village under Morada tehsil of Mayurbhanj district sparking off a strong resentment among the local residents.
The sign board put up by Public Works Department (PWD) of West Bengal carries messages on both English and Bengali. The messages read: Welcome to Jhargram District and Jhargram Zilla Apnake Swagat Janachhe (Jhargram district welcomes you).
Tukpalasia under Palashmundali panchayat is a medium size village having a population of around 700. Since it is located on the Odisha-Bengal border, locals said the neighbouring State has been attempting to claim rights over the village since long.
It is highhandedness of Bengal authorities who have been eyeing precious land of Odisha and claiming rights over it
The neighbouring State had earlier made several attempts to encroach villages in Balasore district leading to tussles with residents of border villages. A few months ago, Bengal Chief Minister Mamata Banerjee at a public meeting in Digha had claimed that Udaypur beach (of Balasore) was discovered by Bengal and they had planned to develop it.
Odisha has about 38 villages, including 35 of Balasore and three of Mayurbhanj, which share border with Bengal. While 10 villages were acquired by Odisha during the division of States in 1930, Bengal took possessions of eight villages. The dispute, however, arose during the land settlement in late 1980s.
Last year, at a high level meeting of senior officials of both the States here, it was decided that the land issues pending since long between the two States would be resolved by delineation of boundary in scientific and systematic way. But the delineation of boundary has not been done yet.
-By Odisha Age