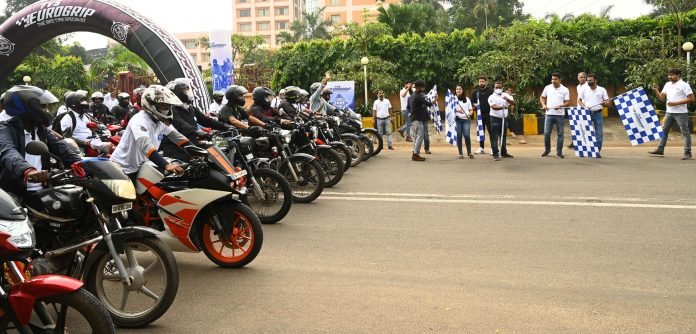 Bhubaneswar : TVS Srichakra Limited, India's leading 2 & 3-wheeler tyre company, announces the launch of a pan-India initiative – TVS Eurogrip Brunch & Biking – bringing together a community of bikers to celebrate the joy of riding while promoting a cause. 
The first edition of Brunch & Biking took place on Sunday, 21st of November 2021 in Bhubaneswar. The 124 km ride was flagged off by representatives from TVS Eurogrip and biking enthusiasts from Odisha at Hotel Swosti Premium. The ride, with Konark as mid-point, concluded at Hotel Swosti Premium. 
TVS Eurogrip views Brunch & Biking as an interesting blend of biking and adventure that presents riders an opportunity to create awareness about vaccination while celebrating the spirit of community riding. A hospitable itinerary has been put together to make this social event enjoyable.
Speaking on the occasion, P Madhavan, EVP, Sales and Marketing, TVS Srichakra Ltd said, "Brunch & Biking is a national initiative to engage with the ever-growing biking community and we are delighted to announce TVS Eurogrip's inaugural edition at Odisha. We believe our country still has a fair distance to cover with respect to awareness on COVID Vaccination, proud the inaugural event promoted this as a cause. The experiences will be exclusively curated for every succeeding edition to provide an exciting motoring experience for the adventure-spirited riders coming together for a greater cause."
In the coming months, TVS Eurogrip intends to organize similar editions in different cities across the country. 
-OdishaAge