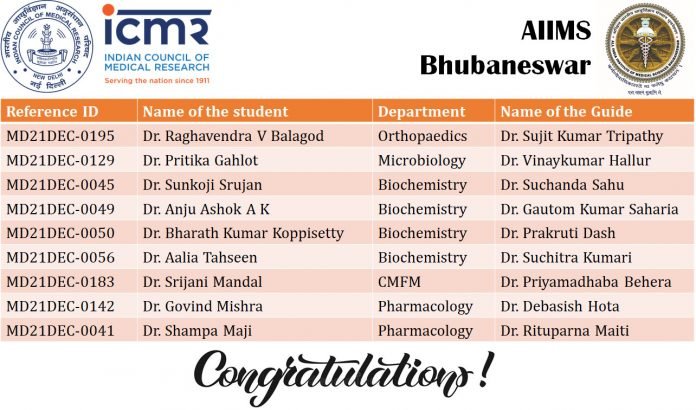 Bhubaneswar: Nine Students from AIIMS Bhubaneswar have been awarded with prestigious ICMR Postgraduate Thesis grant for session January 2022.The students are Dr. Raghavendra V Balagod from Orthopedics, Dr. Pritika Gahlot from Microbiology, Dr.Sunkoji Srujan, Dr. Anju Ashok A K, Dr. Bharath Kumar Koppisetty, Dr. Alia Tahseen from Biochemistry, Dr. Srijan Mandal from CMFM, Dr. Govind Mishra & Dr.Shampa Maji from Pharmacology department have been awarded with one of the most prestigious scholarship programmes for research students. Dr. Sujit Kumar Tripathy, Dr. Vinay kumarHalur, Dr. Suchanda Sahu, Dr. Gautom Kumar Saharia, Dr.Prakruti Dash, Dr. Suchitra Kumari, Dr.Priyamadhab Behera, Dr. Debashis Hota and Dr. Rituparna Maiti were the guide for the respective students.
It may be noted here that every 6 months 45 Medical and 5-6 Dental Postgraduate students receive this grant from among thousands of students from Medical Colleges all over India.
On this occasion AIIMS Bhubaneswar Director Prof. Mukesh Tripathi, Medical Superintendent Dr. S N Mohanty and others have congratulated all the students and their guides for this achievement.
-OdishaAge