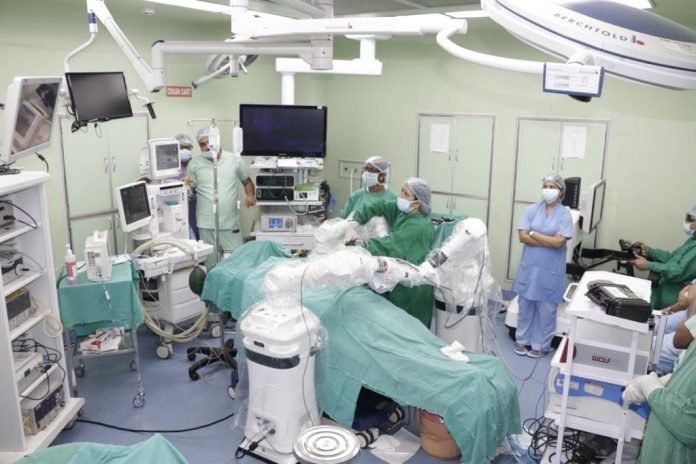 Cuttack: Shanti Memorial Hospital, a leading healthcare provider of Odisha
state announced that a Robotic Surgery Centre of Excellence 'Robotic Sx system (Versius) of CMR (UK)' has become operational in the hospital from today. This is the first ever state-of-art center of excellence on Robotic Surgery in the entire state. Considering it as a big milestone in its healthcare journey, hospital belives that it would be a great relief for the people of Odisha as they can avail this opportunity here itself instead of having to travel to metropolitan cities to get their surgeries done. The cost of surgery will be marginally higher than Lap Surgery, but would be one third of the cost compared to the procedures done in metros. Also there are several advantages of Robotic Surgery over Laparoscopy.
Speaking on the occasion Dr Sreejoy Patnaik, Chief Surgeon & CMD, Shanti Memorial
Hospital said, "Every healthcare facility needs to keep pace with innovation in technology to
thrive in the healthcare industry. I am proud to state that my hospital has been following this mantra since inception, and hence we have been blessed with the trust of our people for all these years. Introducing Robotic surgery in Odisha was a long cherished dream and I feel this will be a turning point in the history of health care in Odisha"
Dr C R Das, Medical Director, Shanti Memorial Hospital opined that, "To become certified
robotic surgeon we have gone through a specialized training consists of 18 sessions. After
successful competition of that training session, four doctors of our hospital declared as certified
robotic surgeon. We will increase our certified robotic surgeon strength in coming days."
Dr Diptiman Baliarsingh, ENT Surgeon, Shanti Memorial Hospital said that, "Generally we
had to struggle to reach out a particular area of patient's inner body during laparoscopic surgery due to various constraint of the procedure. But, Robotic Surgery made it very easy to reach out those areas basically during ear, nose or thyroid related surgery which were earlier considered as difficult areas."
Dr Prashant Chandra Das, Oncology Surgeon, Shanti Memorial Hospital said that, "We are
very pleased that for the first time robotic surgery facility available in Odisha and basically in the health city of the state Cuttack. One major advantage of this procedure is magnification, through which we will able to see big picture of affected area that will help us treat the problem effectively."
Dr Rekha Das, Surgeon, Shanti Memorial Hospital said that, "Main motto of robotic surgery is to provide patient a painless procedure. Another important aspect of this surgery is that patient with obesity problem can recover very fast which was in earlier case was very painful and delayed for them."
As one of the Odisha's leading centre of excellence, it will provide various advantages of
Robotic Surgery over Laparoscopy. Robotic Surgery, the surgeon operates with higher
magnification in a 3 D mode with miniature precision. The Robotic arms have the ability to reach inaccessible& small operating spaces. There is less contact of Robotic instruments to the interior organs of the abdominal cavity, therefore reducing the surgical site infection.The endowrist features of the Robotic instruments moves or rotates 720* compared to human wrists which rotate only 180*.The skill movements of human wrist is enhanced by using this endowrist features of the Robot .Blood & pain is minimal. Hospital stay is reduced further as compared to Laparoscopic Surgery, patient can be discharge after 24 hrs post surgery.
All Surgeries done by Laparoscopy can be done by using Robots. Upper GI surgeries –
Esophagus, Stomach & Pancreas; Hepato biliary & Pancreas surgery –Liver, Gall bladder, Bileduct, Pancreas; Solid organ surgery – Kidney, Spleen &Liver; Colorectal Surgery; All Surgical oncological surgery (Cancer surgery); Radical Prostatic surgery for cancer prostate; Bariatric Surgery; All Hernias surgeries i.e., (Groin & Abdominal) & Abdominal wall Reconstruction surgery; Thoracoscopic surgery – Lungs, Thymus; Head & Neck surgery – Oral cavity, Thyroid surgery can be done through robotic surgery.
-OdishaAge