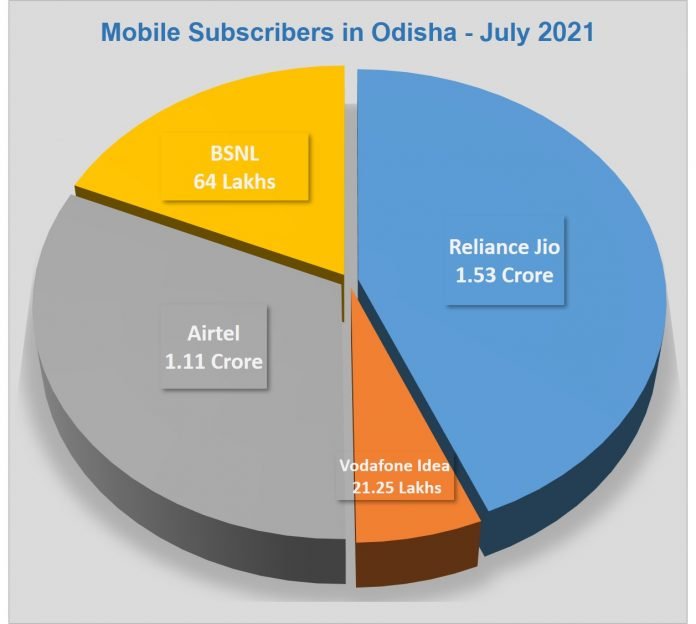 Bhubaneswar: Continuing its dominance as the most preferred digital service provider in Odisha, Reliance Jio has added highest 3.19 lakh new mobile subscribers in the state in July 2021, as per the latest telecom subscriber data released by TRAI, today.
As per the data published by TRAI for the month of July 2021, Reliance Jio added highest 3,19,980 mobile subscribers in Odisha in July followed by a distant Airtel which added just 15,578 mobile subscribers and BSNL which added only 8109 mobile subscribers in Odisha during this period. Vodafone Idea continued to witness decline in its subscriber base as it lost 64,333 mobile subscribers in the month in Odisha. Overall, Odisha witnessed an increase of 2,79,306 mobile subscribers in July 2021, largely fuelled by robust subscriber addition by Jio, revealed the data published by TRAI.
With this, Reliance Jio has further consolidated its No. 1 position in the state with 43.7% subscriber market share, followed by Airtel with 31.89%, BSNL with 18.35% and Vodafone Idea with 6.06% subscriber market share in the state. Reliance Jio presently leads Odisha telecom market with over 1.53 crore mobile subscribers followed by Bharti Airtel with 1.11 crore subscribers, BSNL with 64.29 lakh subscribers and VI with 21.25 lakh subscribers in the state. It is worth mentioning here that Reliance Jio is also the market leader in Odisha in terms of gross revenue as it commands overs 52.3% gross revenue market share of the sector in the state, as reported by TRAI in its quarterly financial report for the sector for the April-June quarter.
Along with mobility, Jio also witnessed robust customer additions in JioFiber business as it added highest 6478 new JioFiber subscribers in over 27 cities and towns across Odisha, in the month of July, taking total number of JioFiber subscribers in the state to 70123 as on 31st July, as per the wireline data published by TRAI for July 2021.
As per the data published by TRAI for July 2021, nationally Reliance Jio has also added highest over 65 lakh subscribers in July, taking its total mobile subscriber base in the country to 44.32 crores.
It may be noted that Reliance Jio has been expanding its all 4G mobile network across the state and connecting several hitherto unconnected remote villages across the state with robust 4G network. This has immensely benefited people at these places, especially students and teachers attending online classes from geographically challenging regions. Jio has also recently successfully completed deployment of the additional 20 MHz spectrum acquired in the recent spectrum auctions, across Odisha, further enhancing network, speed, and subscriber experience in the state.
-Odisha Age