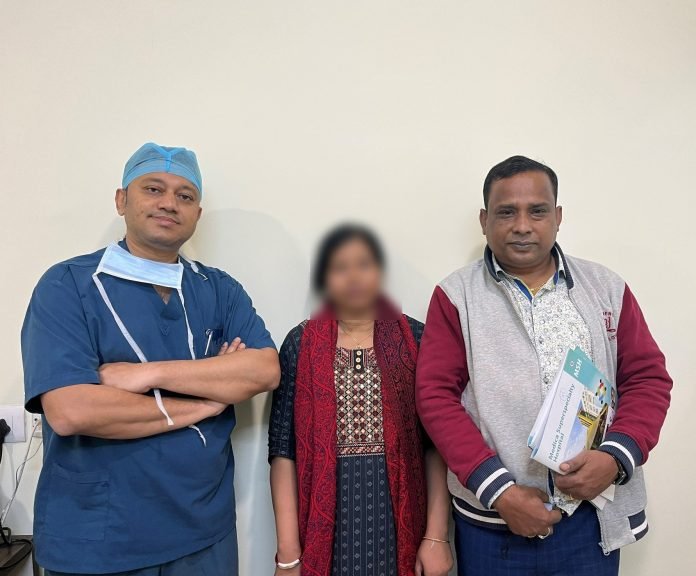 Kolkata : Medica Superspecialty Hospital, the largest private hospital chain in Eastern India, through their newly set up Oncology Department, providing world class cancer treatment at Kolkata, achieved a momentous feat of a first Daycare Robotic hysterectomy made possible by the incorporation of 4th generation Da Vinci surgical Robot available at the facility. After marking the World Cancer Day by empowering ONCO survivors, inducting real life cancer survivors into the workforce at the upcoming facility, this minimal invasive and successful daycare operation adds another feather in the cap of the Medica Oncology team led by Dr. Sourav Dutta, Director Medica Cancer Hospital. 
50-year-old Mrs. Samanta from Midnapore, West Bengal was operated by Dr. Arunava Roy, Senior Consultant Gynaecologic Oncology and Robotic Surgery, Unit head of Gynae Oncology and Women Cancer Initiative, Medica Cancer Institute, Medica Superspecialty Hospital.
Mrs. Samanta, the 50-years-old perimenopausal (around menopause) middleclass homemaker from Midnapore, had been suffering from heavy and prolong menstrual bleeding. Ultrasound revealed thickened endometrium (the layer of uterus from where menstrual bleeding occurs). Endometrial biopsy revealed endometrial polyp harboring endometrial hyperplasia – a precancerous condition which can progress to uterine cancer if left untreated. She was advised hysterectomy. The patient and her family opted to undergo Robotic hysterectomy after understanding the benefits of the surgery made available through the state of art 4th generation Da Vinci surgical Robot available at Medica Superspecialty Hospital, Kolkata. 
Mrs. Samanta was admitted at 7 am on the morning of surgery and was discharged the same day evening around 8 pm. Within a week, she, being a homemaker and a caregiver for her ageing mother-in-law is completely fit and returned to her normal life and performing household chores. The extra cost incurred due to consumables specific to robotic surgery was balanced out by minimal hospital stay, medications and no blood transfusion while ensuring the best quality of life after surgery.
In India:
Estimated number of people living with the disease: around 22.5 lakhs
Every year, new cancer patients registered: Over 11,57,294 lakhs
Cancer-related deaths: 7,84,821 lakhs
Risk of developing cancer before the age of 75 years

Male: 9.81%
Female: 9.42%
On the first Daycare Robotic hysterectomy, Dr. Arunava Roy, stated, "As per WHO statistics, every 1 out of 6 human beings will have cancer in their life. Average women between 45-60 years tend to be most vulnerable but timely screening, detection, advanced cancer care and essential treatment can help them lead a healthy life. In this daycare hysterectomy the patient did not require any blood transfusion, antibiotics, or major pain killers. She was discharged on the same day with minimal medications and almost no pain. This is indeed a landmark in cancer care in eastern India and will inspire patients to not delay and come forward to avail the best treatment available at an affordable cost." 
Dr. Abhay Kumar, Head, Surgical Oncology & Robotic Surgery, stated, "India's cancer burden has significantly increased over the years. Globally, cancer cases increased 21% and deaths 26% from 2010-2019. COVID-19 has further widened the screening gap. Nearly 14 Lakh people had cancer in India in 2020. Early detection and diagnosis are the only way to prevent deaths. Medica has the world class facility in cancer care and the incorporation of the 4th Generation Da Vinci surgical robot will be a boon for cancer treatment at Medica. This daycare treatment is a step towards the best from Medica Cancer Institute which will bore fruition in days to come." 
Medica always believed in using cutting edge technology with a heart – technology that's beneficial to patients in terms of reducing hospital stay thus reducing costs, better clinical outcomes, and faster recovery. With such aim Medica has now brought on board the 4th Generation Da Vinci Xi System that will now be able to provide the surgeons with multi-quadrant access, improved ease-of-use, an expanded instrument portfolio and an integrated table to enable a minimally invasive option for the breadth of surgical procedures. During the pandemic, there was an increase in the number of minimally invasive surgeries like Robotic-Assisted Surgery (RAS) across therapy areas – especially in cancer care, an indication that certain section of patients and surgeons are now choosing this procedure for the reason – it is more accurate and safer for the patient and surgeon with minimal post-operative care.
-OdishaAge