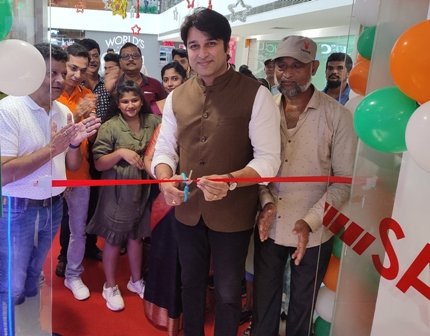 Jajpur: Considered as one of leading industrial hub of the state, Jajpur road has got a new fashion destination which will enable customers to fulfil their fashion goals in style with world class brand's latest collections. On 14 August 2022, leading fashion house fSh Junction opens its first retail store at Utkal Center Point, Ground Floor, Jajpur road. Eminent Odia actor and Chairman of Mo College Abhijan, Sj Akash Dasnayak has inaugurated the new store in presence of Shnehansu Kumar Tripathy, Proprietor, fSh Juntcion and Sandhyarani Tripathy and other eminent dignitaries.
fSh Juction is a male fashion store which is houses to three powerful brands named as AmericanBull, Ethnix and Cofibud. As a house of season collection, this store welcomes its patrons with latest fashionable apparels. To fulfil the entire need of marriage and post events, this store has everything to offer. During festival season it will fulfil ethnic wear appetite of people with its Enthix brand.
On this occasion, Shnehansu Kumar Tripathy, Proprietor, fSh Juntcion said that, "We are very much thrilled and delighted to announce about our first store opening at Jajpur road. Set up with 500 square feet carpet area in a sought after location of the city, this store will fulfil emerging fashion need of customers around these areas. We invite customers to our store to touch and feel the products and take informed buying decision. Our exotic collection has power to enthral the fashion taste bud of people and make them feel special in their life's important occasions."
fSh Juction has very strong plan to expand its presence to other cities of the state. We are already visited few locations and saw very wonderful properties to open our upcoming stores. In a very short span of time, we will expand our wings to other corner of Odisha as we are committed to fulfil fashion need of people in a very unique and special way. Latest fashion makes people stand out from the crowd and provide a new identity to the personality. That is what, fSh Juction is aspire to do.
-OdishaAge