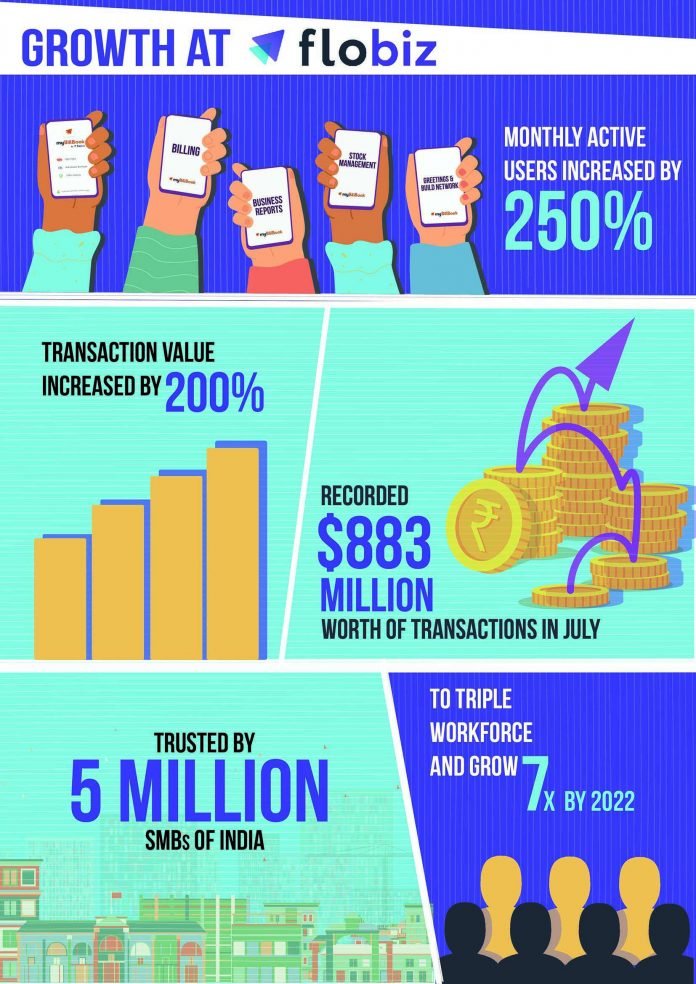 Bhubaneswar : India's fastest growing SMB-focused FinTech startup FloBiz is witnessing 250% growth in monthly active users and aims to achieve 7X growth by 2022. Despite the intermittent lockdowns imposed due to the 1st & 2nd wave of COVID-19, FloBiz witnessed an increase in monthly active users & GST registered users of myBillBook – the company's flagship product helping SMBs in billing & accounting, taking the overall tally to 5 million downloads in 2021. The startup observed a 200% increase in business volume amounting to transactions, recorded over USD 883 million transactions in July on the myBillBook app.
Remarking on the growth, Rahul Raj, Founder & CEO of FloBiz said, "As we reflect on our growth in the past year, we continue to recognise the importance of product innovation and customer obsession. There is a growing demand in the segment as businesses undertake digital transformation journeys. We are geared to serve our SMB partners and help them sail through these challenging times. Our flagship product myBillBook is designed to help business owners manage invoicing, inventory, and receivables/ payables while easily digitising other aspects of their daily operations directly through their mobile phones."
He further added that "Our growth is testimony to the faith our SMB partners have placed in us. We will continue to develop & deliver deeper solutions to power their growth and enable a seamless start to their digitisation journey. "
Keeping in line with its exponential growth, FloBiz plans to increase its engineering, product & data workforce by 3X in the next 6 months.
-Odisha Age