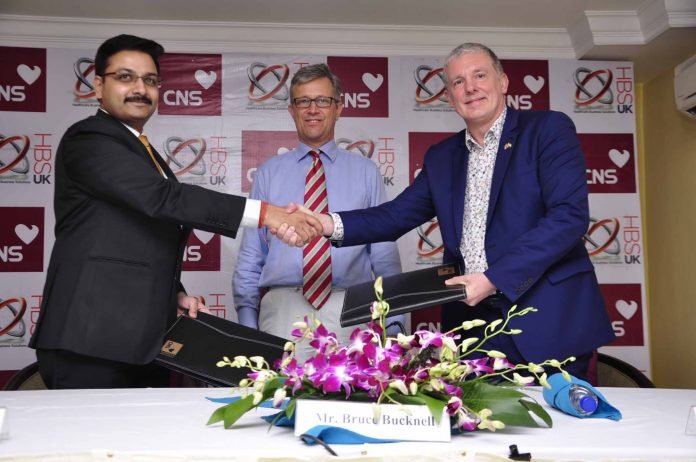 Kolkata: Charnock Nursing Solutions (CNS), a new initiative by Charnock Hospital, signed a Memorandum of Understanding with Healthcare Business Solutions, UK for preparing and providing Indian nurses the opportunity of working in the National Health Service, UK. Mr. Prashant Sharma, MD, Charnock Hospital and Mr. Mark Fountain, CEO, Healthcare Business Solutions (UK) Ltd put the ink on the papers as a first step towards providing a better future to aspiring nurses in the country. This initiative of Charnock Nursing Solutions to provide comprehensive nursing training will prepare Indian nurses for a global career. Mr. Bruce Bucknell, British Deputy High Commissioner in Kolkata was the Chief Guest during the signing of the MoU.
Speaking at the occasion, Mr Mark Fountain, CEO Healthcare Business Solutions (UK) Ltd said, "We are really looking forward to creating opportunities to change the lives of Indian Nurses and their families in a positive way.  Nurses who meet our eligibility criteria can come to the UK and be part of one of the best healthcare systems in the world.  We have chosen CNS as our partner in West Bengal due to their great reputation and strong ethical values.  Between us we will deliver the nurse dream".
The MoU between the two parties will be a gateway for nursing community practicing in India to enhance their knack and hone their skills, thus getting ready to serve globally. A nurse will be given an employment in NHS and will be granted a 3-4 years VISA by the UK Government after successful completion of training and preparation. After this period nurses will return to India. With their training and work experience in UK, nurses can get better job positions in India or seek placements globally.
-ByOdishaAge