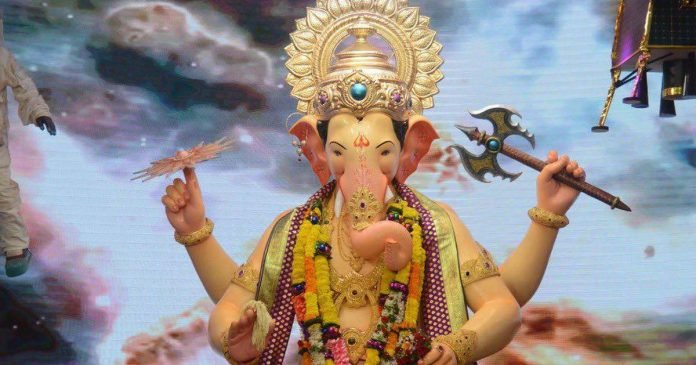 Bhubaneswar: Guidelines for Ganesh puja has been released by the Bhubaneswar Municipal Corporation on 2 September considering the ongoing Covid situation.  These guidelines are framed keeping in mind the upcoming hustle bustle of the festive season in the state.
It is directed as the guidelines to be followed strictly by devotees and puja organisers during celebration of Ganesh Puja this year. The rules and regulations issued puts out different restrictions for Ganesh puja especially on public congregation during the puja to procession after the ceremony. The guidelines are notified in confirmation with the state government 's notification issued on 9 August.
The guidelines such as no public congregation on the occasion of Ganesh Puja shall be allowed within BMC Jurisdiction. The Organizers of Puja are permitted to conduct Ganesh Puja in mandaps/pandals by following all COVID-19 protocols like social distancing, wearing masks, proper sanitization etc. Puja will he performed indoors without public participation and grandeur.
The mandaps has to be covered from three sides for restraining public, only one side will remain open for the priests and rituals. Darshan for public is strictly prohibited. There shouldn't be more than 7 persons allowed to be present in the pandal.  The people who have been fully vaccinated are allowed for the adherence of Puja.
Other major guidelines issued are the size of the idol has to be less than 4 feet. There shall be no procession for the immersion of the idols.  The idols shall be immersed in artificial ponds to be created by the BMC.
Ganesh  Puja in educational institutes  will be observed by adopting all the above norms. The maximum number of participants in allowed educational institutions are 20 and all have to follow the COVID protocols. Students under the age of 18 have to be fully vaccinated to be present at the puja. No partaking of prasad is allowed at any circumstance.
-OdishaAge