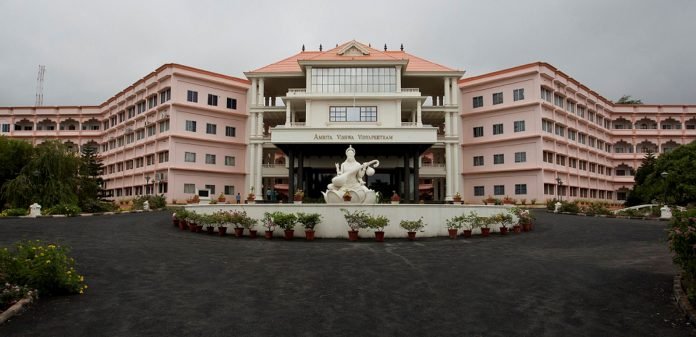 Delhi : Amrita Vishwa Vidyapeetham, ranked 4th best overall university in India by NIRF 2020, organized a virtual two-day international symposium on Universities-SDG Performance & Ranking on August 3-4, 2021. Thought leaders in higher education and industry took part in meaningful discussions on SDGs in context of on-ground research, university strategies, funding perspectives, Government policies, and ranking impacts. Shri Amitabh Kant, IAS, CEO, NITI Aayog and Professor Anil D. Sahasrabudhe, Chairman, AICTE, were keynote speakers.
The Sustainable Development Goals (SDG) also known as Global Goals were adopted by the UN in 2015. These are the blueprint to achieve a better and more sustainable future for all where universities are key to the adoption and fulfilment of these SDGs
Speaking at the event, Professor Raghu Raman, Director, Rankings & Accreditation, Amrita Vishwa Vidyapeetham said, "The inspiration for this international symposium comes from Chancellor Mata Amritanandamayi Devi (Amma). The New Education Policy (NEP) 2020 announced by Prime Minister Narendra Modi had a focus on SDG4. It believes that free, equitable, and quality education while building on the country's traditional value systems forms the basis for sustainable development."
The highlight of the symposium was the presence of six women educational leaders in India, which is a rarity. Besides this, 23 speakers from nine countries including India shared their best practices. The speakers included Professor Sasmitarani Samanta, Pro-vice-chancellor, KIIT University; Professor Satheesh Kumar Bhandary, Vice-chancellor, NITTE University; Professor Bhavani Rao UNESCO Chair, Amrita Vishwa Vidyapeetham; Professor Bipin Nair, Dean, School of Biotechnology, Amrita Vishwa Vidyapeetham; Professor T. G. Sitharam, Director, IIT Guwahati, India; Professor Madhu Chitkara, Pro-chancellor, Chitkara University; Professor Asis Kumar Chattopadhyay; Pro-vice-chancellor, University of Calcutta, Professor Maneesha V. Ramesh, UNESCO Chair, Amrita Vishwa Vidyapeetham; and Professor B. Suresh Prochancellor, JSS Academy of Higher Education.
-Odisha Age